The Adventure starts on Thursday night/Friday morning when early arrivers put their boats in at the Lennoxville or Airport ramps and motor to the Beaufort Waterfront. The boats may tie up at the Town dock (click here to sign up) for a fee or anchor out in Taylors Creek. Friday is free for sight seeing or sailing in the Sound.

Saturday we will sail to Cape Lookout by the
Ocean depending on weather conditions.
Later we will then anchor inside the Bight near the
beach and have a beach cookout.
Bring food for your crew, Firewood and a dish to share. Grills will be provided. Some will return Sunday morning
and others later.


Friday Night Dinner
Pirate Party at the Dock House... Let's see if we can scare off the locals!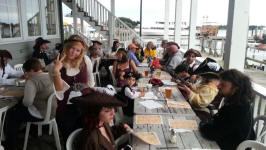 Each Boat should have a
Jolly Roger (pirate flag, skull and
cross bones) flying somewhere on
the boat for identification.
We will leave as a group.
Latecomers are welcome to arrive late Friday night
or Saturday morning for the sail.